Post by queensgirl on May 19, 2006 13:13:49 GMT -5
Subtle but important point:
I don't think we ever hear Sam tell Maddie he loves her.
At least, not in public.
Even though Sam is the only one who actually blurts out a marriage proposal, at least at this point in the story, it's still not the same phrase.
So, in a way, Sam faced the same dilemma as Dave, and the two men are a bit more parallel than we think...
Maddie was the first to literally say she loved anyone, in her speech to the man she
thought
was Sam in
I Am Curious
.
"But I love him, too."
She
doesn't know who she's talking to! And notice she used the mere word "him," instead of a name. It was as if that anonymity and that attempt to smooth over the truth finally had to backfire.
Notice, also, that the directors and writers made a point of several times presenting Sam and Maddie from
literally
"the wrong angle," to indicate that
they
were not the people who should be together. The way something looks is just as much a part of the storytelling as anything else, and can express important aspects of the meaning.
There was this, from the end of
Sam and Dave
, which shows Sam and Maddie from the aftermath of the debacle at the restaurant: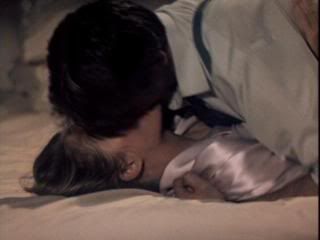 It's a really funny angle, funny peculiar, not funny ha-ha: the frame is from the
foot
of the bed, and at that moment they are lying crosswise on it, not from the pillow end like people usually get into bed.
(
Ahem
.)
Then, here's a shot of them at the beginning of
Maddie's Turn to Cry
.
Why, exactly, is the camera placing the viewpoint so that they're seen as if the bed is actually
sideways
?
You'll remember the beginning of that scene: the 'eye' travels from feet upward.
The first view had been of light coming through the window, then pan over to the clothes on the chair and floor, and last up to the level of the people--but from this odd approach, at some kind of 45-degree angle.
The whole reunion was hasty, and the visual presentation of the two of them together here posits
everything
about them as jarring and strange.
"The camera doesn't lie."